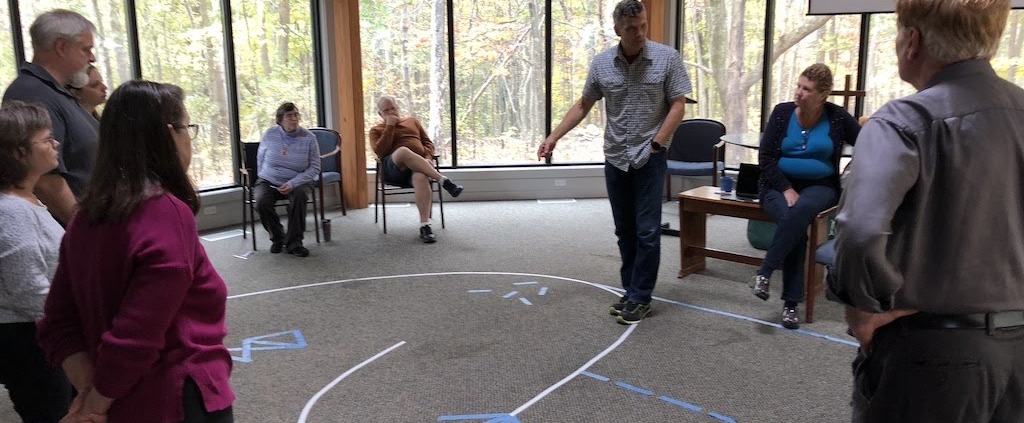 Pastors often refer to our calling as a very lonely one. We see examples of that in the Old Testament prophets. They stood alone, spoke words of God that didn't fit people's agendas and plans. And they weren't very well liked. Most of them were probably a bit confused. But still, life was simple back then. In modern times, we have the Word of God to proclaim as God wants it declared, and at the same time, we have all these important words to contend with: Vision, Relevance, Skillset, Training, Trends, etc. All the while, pastors describe our lives as being lived out in a fishbowl for all to watch: Does she have the skillset? Is he up-to-date on the trends? Does she have vision?
That's why, I believe, the clergy retreat is vital. It's a place set aside to pray together, to encourage one another, to hear each other's stories, to lift up, to edify, to heal, and at times, to shed tears. That's my hope and expectation in coming to this and any clergy retreat.
This was the third annual Clergy Retreat. After missing the first one, I've attended two now. We gathered together at Holmes Camp and Conference Center in Holmes NY for two nights. The guest speaker for the small gathering was Dr. Corey Schlosser-Hall, the Executive Presbyter of Northwest Coast Presbytery. He led us with a theme titled, "Flourish with Spiritual Grounding." He began the first session with a quote from Jesus: "I came that they may have life and have it abundantly" (John 10:10b). And he challenged us to seek to live an abundant life, or a balanced life. And then he invited us to talk about what that might look like for a church. There was a lot of sharing, a lot of processing. It was all good.
But maybe the highlight of the retreat, and it goes back to how I began this reflection, were the times we shared lives. Through being together, in the eating and fellowshipping, in the sharing stories and hearts, we connected as fellow pastors – usually standing alone, but for few days, standing together hand in hand. It was for me, as was for most of us, a time of great refreshing of souls.
by Rev. Jin Bae of Bethany Presbyterian Church
https://media.mywtenfold1.com/wp-content/uploads/sites/3/2019/10/09161032/Clergy-Retreat-Group-Activity-2.jpg
768
1024
helloadmin
https://media.mywtenfold1.com/wp-content/uploads/sites/3/2016/03/09153610/Newark_Presbytery_logo.png
helloadmin
2019-10-15 13:46:30
2019-10-15 13:46:30
Reflection from the Clergy Retreat