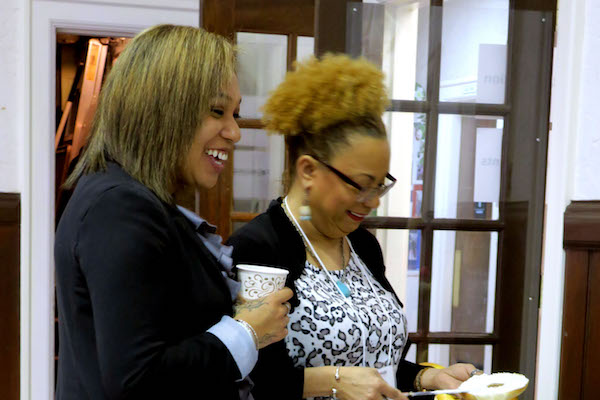 On Saturday, May 12, the Presbytery of Newark gathered for its first official meeting as a Presbytery since the Newark Administrative Commission came in at the Presbytery's invitation.
It was a wonderful meeting! So much so that Elder Doris Peterson commented that a dream of hers had come true – we spent more time talking about mission than we did talking about money!
As part of the meeting we installed Elder Warren McNeill as Stated Clerk, we commissioned Brittany Heun to Montreat, North Carolina, as a Young Adult Volunteer, and we commissioned Rev. Ruth Boling and Elder Lorraine Cuffie as Commissioners, and Emma Gritsch as Young Adult Advisory Delegate to the 223rd General Assembly in St. Louis, Missouri.
We rejoiced with Katherine Scott-Kirschner and the Presbyterian Church of Upper Montclair. Katherine will be ordained and installed as PCUM's Associate Pastor on Sunday, June 3 at 3:00 pm. And we also rejoiced with Rev. Ming-Chen (Grace) Lo Rohrer and the Taiwanese Presbyterian Church of North Jersey. Grace will be installed as their Pastor on Saturday, June 9 at 11:00 am.
We said thank you to Elder Victoria Andrade for her service to the Presbytery, and to the Newark Administrative Commission for their leadership, guidance, and support!
Our nurture portion of the meeting was a panel discussion around an article that pointed out that millennials were not around in what some of us call the "glory days" of the church. The outstanding voices that comprised the panel were Brittany Heun, Katherine Scott-Kirschner, Nick Wallwork, Liz Hathaway, and Kathryn Threadgill.
And last, but not least, we shared worship and Communion. I've been wondering for a while now what letter the Apostle Paul might write to the Presbytery of Newark. Rev. Ruth Boling delivered an amazing sermon and in it she shared her "First Epistle to the Newarkians" using Paul's first letter to the Corinthians as a model…
Ruth's First Epistle to the Newarkians
If we speak in the tongues of Calvin or of Niebuhr,
but do not have love,
we are a noisy gong or a clanging cymbal.
And if we have exegetical powers
and remember all our Greek and Hebrew
and understand all Schleiermacher
and if we can quote the Book of Order on demand
and wield parliamentary procedure
so as to remove logistical mountains
(decently and in order, of course)
but do not have love,
we are nothing.
If our churches pay all their per capita
and if they also hand over their mission pledges so that they
may boast,
but we do not have love, we will have gained nothing.
Love is patient.
Love is kind.
Love is not conservative or progressive,
it is not red or purple or blue.
Love does not insist on its own theological position;
It does not have to be right all the time.
It does not have to win every argument.
Love is not irritable or resentful or snarky.
It doesn't gossip.
It never exults in someone else's missteps,
but rejoices in God's truth.
Love withstands whatever hardships or annoyances come its way.
Love believes "all things work together for good for those who love God and are called according to God's purposes."
Love chooses to be hopeful in all circumstances.
Love puts up with a lot of nonsense.
Love never ends. (If it did, it wouldn't be love.)
But as for Presbytery meetings, they will come to an end;
as for policies and procedures, they will cease to be important;
as for church litigation and administrative commissions,
they too will come to an end.
For now we see in a mirror, dimly.
For now we know only in part;
For now we will never get things more than partially right.
But one day we will see face to face.
One day we will know fully.
One day we will get it right: for one day we will
cast our crowns before the Lord,
lost in wonder, faith and perfect praise!
But, for now, and for the foreseeable future,
faith, hope, and love abide, these three;
and the greatest of these…. is love.
https://media.mywtenfold1.com/wp-content/uploads/sites/3/2018/05/09154927/may-22-pby-mtg-3-featured.jpeg
400
600
helloadmin
https://media.mywtenfold1.com/wp-content/uploads/sites/3/2016/03/09153610/Newark_Presbytery_logo.png
helloadmin
2018-05-22 13:04:33
2018-05-22 13:04:33
May 22 Presbytery Meeting Recap