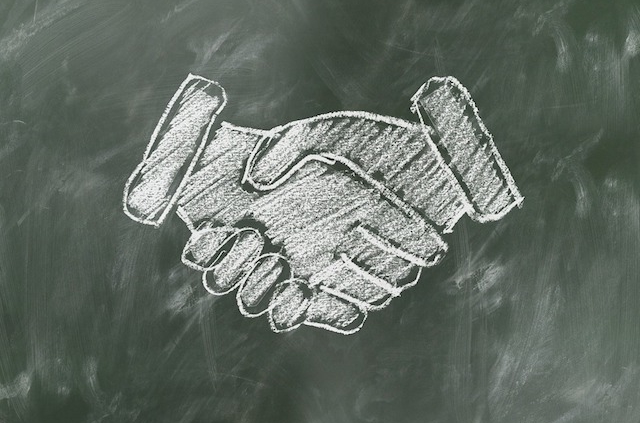 Whenever we are frustrated or discouraged in our ministries, it is wise to turn to our scriptures, our guiding theology and practices laid out in the Book of Order and the Book of Confessions, and to each other. We can so easily forget why we have been called and who has called us in the midst of challenges, conflict or failures. We can forget that even Jesus the Christ himself almost got tossed over a cliff after his first public sermon.
Time and again, throughout the Bible and in our constitution, we are reminded that we are not in this alone. First and foremost, Christ is the head of the Church – Christ calls us and equips us, and is the life, the hope, the foundation of the Church.[i] Second, we are part of a body, in our worshipping communities, our denomination, and together with all Christians of every time and place.
We are called to participate in the body, not alone. This means listening to, learning with, praying with and working with other Christians. Of course, as with every human work, it will not be perfect. We will disagree over the right paths forward. We will find ourselves in conflict over right belief and practice. We will not always understand each other. This includes those arguments over the carpet in the sanctuary as much as vast differences in theology between different branches of Christianity.
But we are part of a team, and in order to fulfill this calling together. Jesus built a team of very different people, and we see both their faith and their failure laid out in Scripture. They had pride, missteps, disagreements, and they failed their and our beloved friend and Savior. And it will be the same for us. But don't let that stop you from seeking and building partnerships to help each other follow Christ well.
You will probably start with people like yourself – though Jesus was not from a town on the Sea of Galilee, Nazareth is in the surrounding region, and Jesus first called men much like himself – poor, doing manual labor, local. But he also calls others, from larger towns and cities, with community-based jobs like a tax collector. The original 12 disciples have different views on life, different social statuses, different politics.
Soon they were joined by so many more people – women and men from all over Judea, and then beyond even Judea. People with different levels of education, income, lifestyles, language and prospects all followed Jesus, quite literally following him around Judea and Samaria. Likewise, talk and work with people both similar to yourself and people very different than yourself, people who may look at the world in very different ways.
Christ is our first partner in ministry, and is at the center of all we do. That is what we look for in potential partners as well, people who hold Christ at the center of their lives. We may disagree on the details sometimes, but that helps us think about what we value in our theology and practice as well. And remind ourselves that if we can do something good together – feeding the hungry, visiting prisoners, healing the sick, comforting the grieving, welcoming those who are wandering or lost – and doing these better together, then we might put aside some of our differences in order to follow Christ well.
Find your partners. Find them in comfort zones and in places you'd rather not go. And there, where two or three are gathered in Christ's name, you will be filled with the Spirit of God.
____________________
[i] Book of Order, F.1.02
https://media.mywtenfold1.com/wp-content/uploads/sites/3/2017/07/09155215/teamwork-shaking-hands-640x480-1.jpeg
480
640
Michael Gyura
https://media.mywtenfold1.com/wp-content/uploads/sites/3/2016/03/09153610/Newark_Presbytery_logo.png
Michael Gyura
2017-07-25 19:24:20
2017-07-25 19:24:20
Focus on Leadership: Find Partners